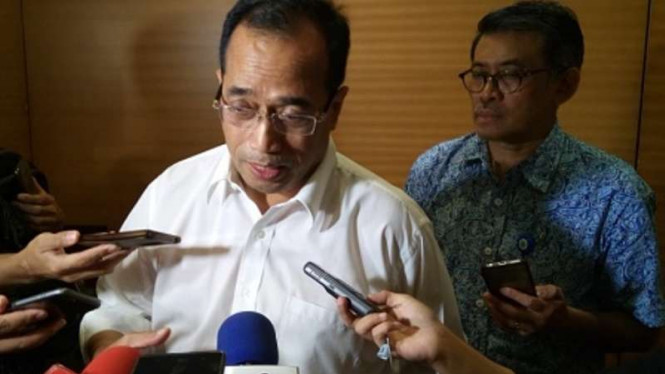 High waves on a 24-25 July, Agency for meteorology Climatology and Geophysics (BMKG) and the Ministry of transportation (Kemenhub) gave warning of the cruise in the waters of Indonesia tightens.
Transport Minister Budi Karya Sumadi said, the current situation of ocean waves have a tendency to increase. He appealed to the areas which are in the Indian Ocean coastline to always be alert, especially in transport and shipping. It is given the high waves some day in the future pose a risk in the waters south of Indonesia.
He asked the whole harbour to provide terms more strictly and give a good understanding of the passenger ship, logistics and no exception on a fishing boat. Specifically for fishermen, former Director of Angkasa Pura II was made the labor-intensive program. Briefly Bob run this program can be shaped or beach clean-up gutters and make the keramba fish.
Previously, potential high surge call BMKG is quite varied, ranging from the Western island of Sumatra, South of Java island to South of Nusa Tenggara. "The potential of this high waves starting from 22 July to an estimated 26 July 28 July even still going to happen," Frank Dwikorita. Wave height forecast is quite varied, ranging from 2.5 meters to 6 meters. But Dwikorita said this high wave peak will occur on July 24-25 tomorrow.
"The point that brothers and sisters get salary with work, work that is done is work that is beneficial to the community," said Budi told the preachers as reported by cnnindonesia. For this program Kemenhub with the Ministry of regional development, the Village left behind and Resettlement and Social Ministry. Bob calls the fishing villages on the South coast of Sumatra and Java which would get the program.
"There is a tendency in massive occur until October a time arises the possibility waves of the wave in the area. Even in detail BKMG will provide a recommendation from week to week toward areas that are specifically marked wave waves will occur, "said Budi Moc in Menteng, Central Jakarta, Sunday (22/7) as reported by kapoww.